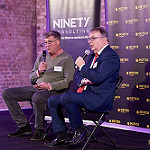 Claims is one of the areas of insurance where there is still massive potential for cost savings (managing fraud and increasing efficiency) and improving the customer experience.
This podcast features speakers from three very different companies all providing solutions for managing claims, but each at different stages in their growth.  Recorded live from our Innovation in Claims Event in London on 5th March, with an introduction from Instech London Partners Matthew Grant and Robin Merttens.
Paul Stanley CEO of 360Globalnet (3.40)
Jeff Manricks and Thomas Verduzco-Weisel from Shift Technology joined us the day after picking up another $60 million in funding. (15:10)
Avi Baruch from Previsico, a spin out from Loughborough University, on forecasting flood and use of new techniques to help reduce claims. (25:10)
Get more information from the event specific page on our website.
To find our next event (free for startups) here
More news and events from our newsletter