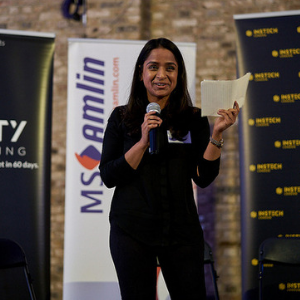 We are back with the recording of Part 2 of our 29th January event from The Steelyard. For the second half of the evening some of the leading figures from the insurers, investors, innovators and the start-up community gave their 5 minute view of what they are seeing, and their opinions on the future of insurance.  
Sam Evans the Founding Partner from Eos Ventures (2.27)
Milan Sud, Head of Innovation at AXA (7.45)
Niall Barton, CEO of Wrisk (13.14)
Dominic Suchett-Kaye of Aon Reinsurance Solutions (20.19)
Madeline Bailey, Head of Strategic Initiatives for MSAmlin (25.50)
Tom Hardcastle Partner at Ninety (34.40)
Erik Abrahamsson CEO of Digital FinePrint (41.13)
Saadhvi Khullar European Portfolio Manager for Munich Re (46.00)
You can see more information about the event, including contact details for our speakers, and many photos from the evening at our website events page - https://www.instech.london/events
If you missed the first of this event, you can catch with our previous podcast, number 17.