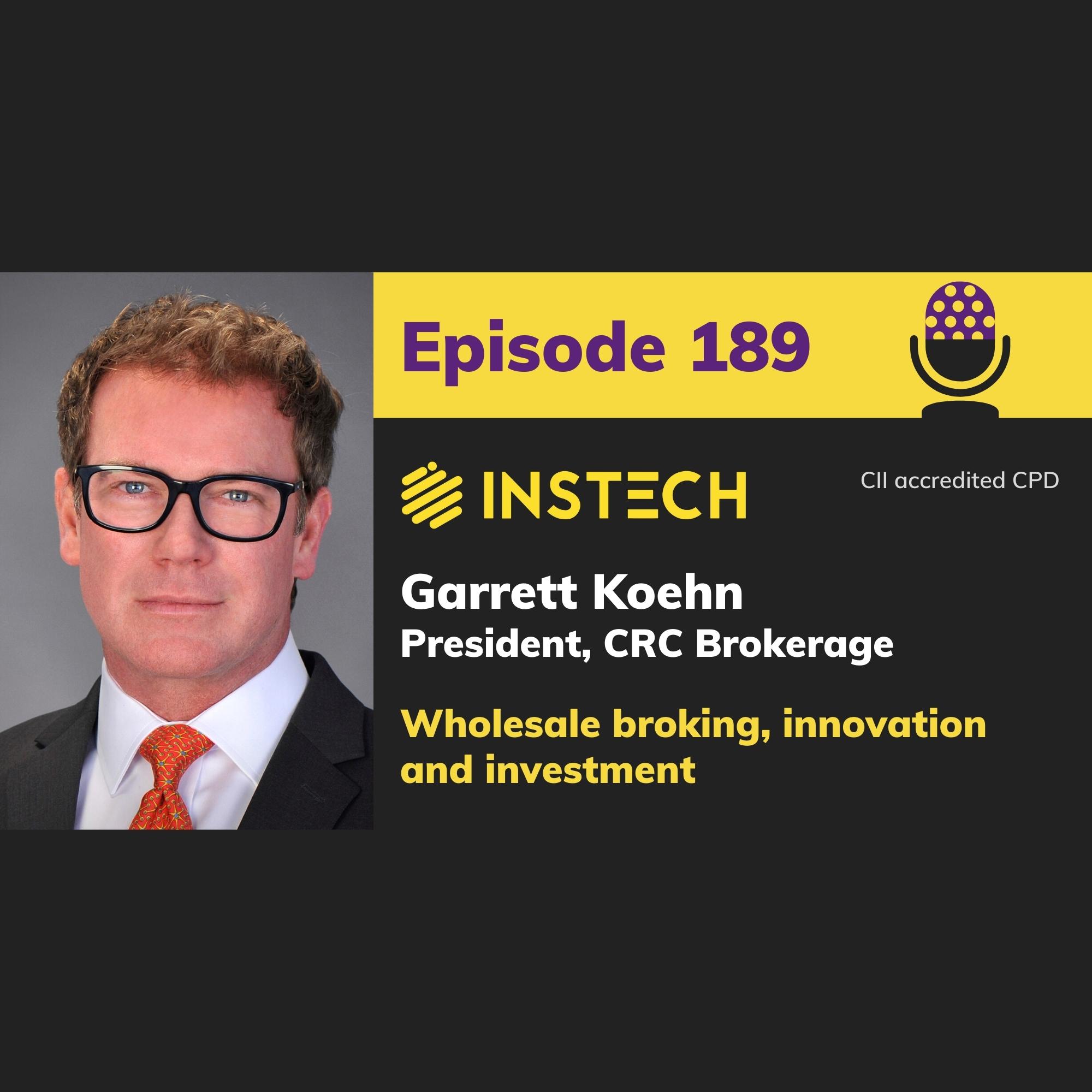 Garrett Koehn is President at CRC Brokerage, and he is also an active investor, mentor and forward thinker on topics such as crypto, cyber and parametric.
He joins Matthew to discuss the emerging trends in risk, investment and insurance. We find out about wholesale broking and the appetite of traditional markets for new risks.
Companies discussed include Ensuro, AgentSync, Zenefits, Evertas, Stere.io, Beazley, and Lloyd's.
CRC Group is one of the largest wholesale insurance distributors in the US. Its insurance offerings and practice groups include commercial property, casualty, professional lines, construction, energy, healthcare and hospitality.
Talking points include: 
How companies are valued and the problems of overvaluation
The role of cryptocurrencies in investment and insurance
Finding new asset classes to insure
The impact of climate change regulation, reporting requirements and opportunities arising from the changes
You can get more information on the InsTech member profile page for CRC Group.
If you like what you're hearing, please leave us a review on whichever platform you use or contact Matthew Grant on LinkedIn.
More information on the InsTech event, Making Payments Pay: Making the Most of Payments Technologies, is available on our website. 
Sign up to the InsTech newsletter for a fresh view on the world every Wednesday morning.
Continuing Professional Development - Learning Objectives
InsTech is accredited by The Chartered Insurance Institute (CII). By listening to any InsTech podcast or reading the accompanying transcript, you can claim up to 0.5 hours towards the CII member CPD scheme.
The Learning Objectives for this podcast are:
Define the role of wholesale insurance brokers in the relationship between clients, brokers and insurance companies
Identify what investors and insurers need to consider when navigating around cryptocurrency market trends
List some of the opportunities arising within the insurance industry due to climate change regulation updates
If your organisation is a member of InsTech and you would like to receive a quarterly summary of the CPD hours you have earned, visit the Episode 189 page of the InsTech website or email cpd@instech.london to let us know you have listened to this podcast.
To help us measure the impact of the learning, we would be grateful if you would take a minute to complete a quick feedback survey.