Episodes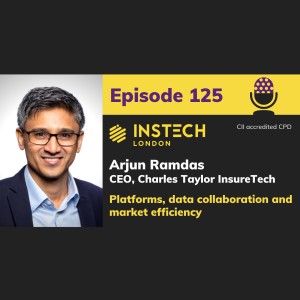 Sunday Feb 14, 2021
Sunday Feb 14, 2021
A lack of standardisation and the ability to transfer data through the entirety of the insurance lifecycle remains a major challenge for the industry.
Charles Taylor InsureTech CEO Arjun Ramdas joins Matthew on Podcast 125 to discuss data collaboration between insurers, MGAs and brokers, and how Charles Taylor's technology is supporting the Lloyd's market.
Talking points include:
Moving from on-prem to SaaS tech solutions
The shift towards platform solutions
Delegated Data Manager (previously known as DA SATS)
Minimising paperwork through automation
Forging partnerships with Systems Integrators
Sign up to our newsletter for a fresh view on the world every Wednesday morning.
If you like what you're hearing, please leave us a review on whichever platform you use, or contact Matthew Grant on LinkedIn.
Continuing Professional Development - Learning Objectives
InsTech London is accredited by The Chartered Insurance Institute (CII). By listening to any InsTech London podcast or reading the accompanying transcript, you can claim up to 0.5 hours towards the CII member CPD scheme.
To claim 0.5 hours for this podcast, go to the Episode 125 page of the InsTech London website, or email cpd@instech.london.